Apply now for Think.Make.Start. VI: In 14 days from idea to prototype!
30.06.2017
---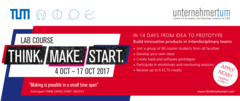 You like to hack state-of-the-art technology, develop exciting ideas and create awesome new products? Our cross-faculty lab course Think. Make. Start. that enables you to do just that.
Be sure to apply before Aug, 28th: http://www.thinkmakestart.com
For more information, check out https://www.facebook.com/thinkmakestart, or ask Google for the "best lecture you can choose at TU Munich"!
---